BEYOND THE ONIROS FILM AWARDS
Interview with the writer & director
Naida Joanides
by Oniros Team
We had the great pleasure of interviewing Naida Joanides, writer, co-producer and first-time director of the multi-award-winning short film 'Katia'. She's a fifth-generation circus performer and, while performing in Italy, she had the chance to meet and work with Federico Fellini, who inspired her 'to tell stories' in any possible form. 'Katia' is her debut short and is entirely set in the circus.
---
1. Hi, Naida, and thank you for granting this interview! You wrote, produced and directed the short film 'Katia'. What should the audience expect to see?
A magical world filled with unique characters living in a circus themed scenario. A secretive place that unfolds with the mystery of what happened to Katia. How far would they go for friendship?
2. Where did you get the inspiration from for creating your story? What about your characters?
As a fifth-generation circus performer, I grew up performing in circuses around the world and I had the privilege of working with women who were strong, beautiful, courageous and dangerous. Women who stood up for their own… who took care of their own. Cossack riders, acrobats and women on the flying trapeze shared their stories and lives with me. My mother, being one of these women. 'Katia' is both inspired and dedicated to women of the circus.
3. The Circus Art is a very ancient and difficult skill to master and we know you've been part of it since you were born. How was growing up in this environment? Was it natural for you to follow your family's footstep?
Growing up in the circus was an adventure to say the least!  I come from a long line of circus performers originating from Italy and Greece. I was raised by acrobats, tumblers and women on the flying trapeze and it was a world that made it easy to follow in my family footsteps.  When we were very young, play was practice and practice was play, and the transition into performing in front of an audience was easy and began at a very early age.  That isn't to say that I didn't want to learn other vocations, but it always seemed that no matter what other way of life I tried, be it photography, writing or film, I always ending up combining it with the world of circus.  It is truly my foundation.  I feel the hardest part growing up in the circus was feeling different from people outside the circus. So, for me, learning to go outside the 'ring' was quite a challenge. But now that I have, I feel comfortable in both worlds, it's pretty awesome!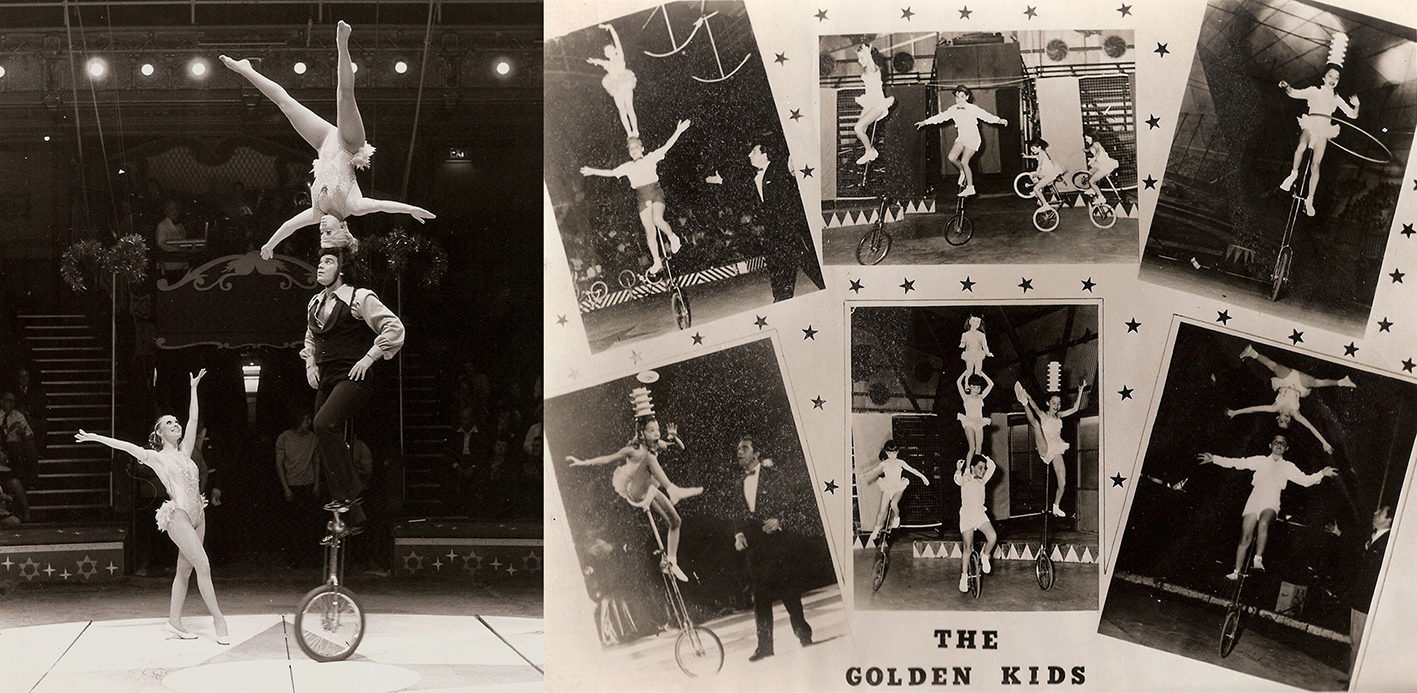 Naida Joanides performing with her siblings
---
4. Without giving anything away, what connects Tanya, Marianna, Jessica and Katia to each other?
What connects Tanya, Marianna and Jessica is not only the world of circus, but their strong bond and friendship with Katia. Katia had helped each one of them through the most difficult time in their lives. Katia was always there for them. And they, in turn, were there for her. An unbreakable bond.
5. We know this is your first time directing a movie (and you did it brilliantly!). What did you enjoy the most about working the film?
First of all, thank you for the compliment! What I enjoyed most was working with an amazing cast and crew. We all shared the same vision for 'Katia' and it was such a pleasure to see it come together. Joey Durango was the director of photography and he really helped me on my first directorial project. He was filled with ideas, suggestions and creative shots! Carolyn Michel, an actress with a very impressive resume, was so kind and helpful and always made me feel I could do this! It was such a great experience working with such a generous and talented group of people.
6. A very interesting choice about 'Katia' narrative structure is that the characters speak directly into the camera. What led you to choose this narrative style?
To be perfectly honest, it was how the characters come to life. I knew I was taking a chance filming it this way, but these are some pretty strong women… I wasn't going to argue with them.
7. Let's talk about the cast. How did you choose your leading actresses? Was this your first time working with them?
I had worked with the talented Carolyn Michels who played 'Tanya' at the Asolo Theatre in Sarasota, Florida. I wrote the script with her in mind, but it took me awhile to have the courage to finally ask her. When she said yes, I guess it was no turning back!
Nicole Esqueda played 'Marianna' and she just happens to be my daughter! Nicole performed in the circus since she was just a little girl and then branched out into acting. She has always had a flare for the 'dramatic' and was a perfect fit for 'Marianna'. Nicole also helped produce 'Katia' and was instrumental in getting many of the circus artist, set pieces and locations.
Jennifer Ashely Snow played 'Jessica' and I was so fortunate to find her only a few days before shooting! The actress who was originally casted to play the part of 'Jessica' was flying in from New York as she was in rehearsals for the Broadway touring show of Dirty Dancing. The day she was to arrive, Florida was hit with a hurricane and she, of course, had to cancel and we couldn't reschedule. I found Jennifer on theatrical website and she was just awesome learning her lines and part in such a short notice. She basically walked onto the set and it was, here's your costume, hope it fits!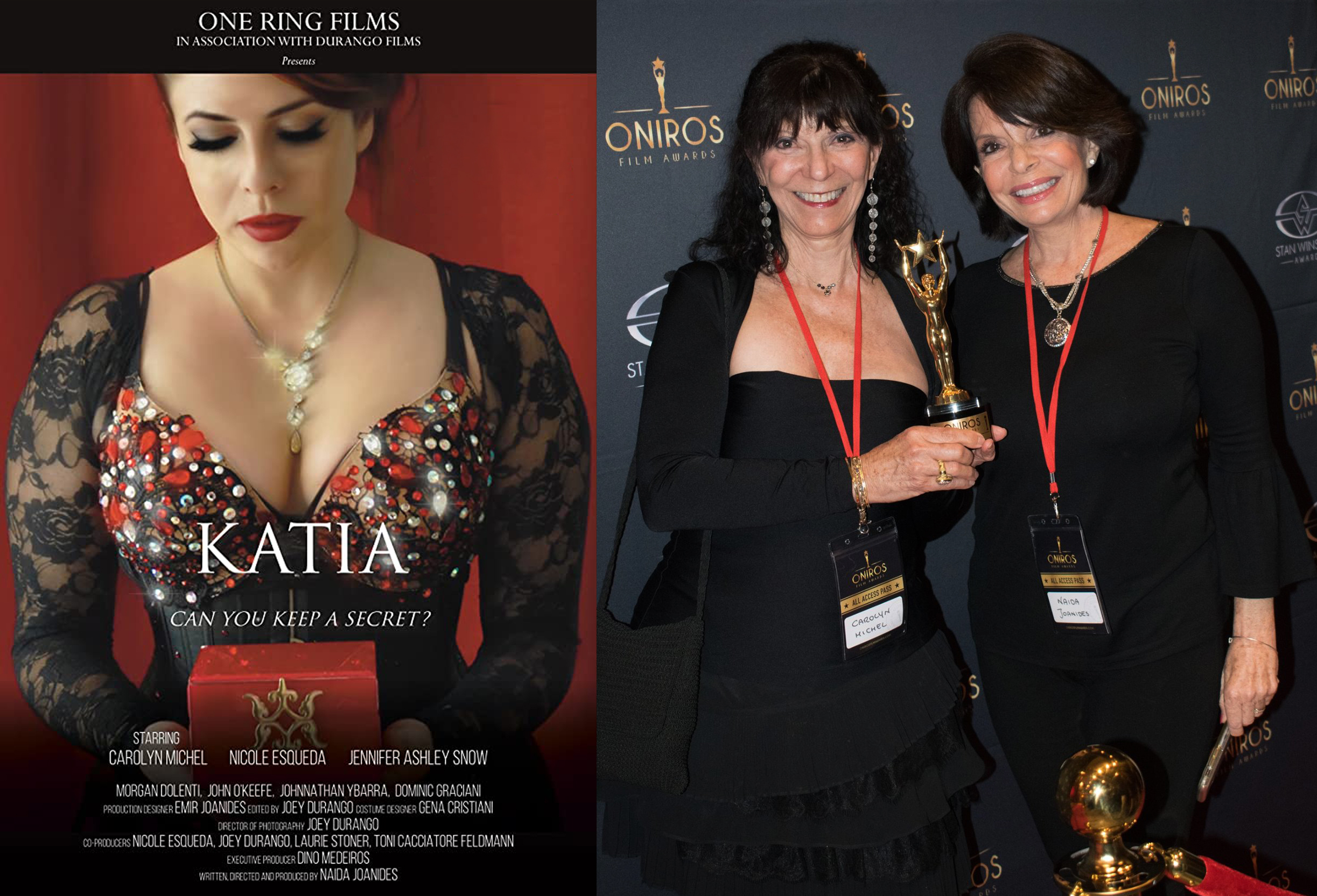 The Director Naida Joanides and the Actress Carolyn Michel, winner of the 'Best Actress' award at Oniros Film Awards 2018
---
8. Do you have any on set stories you can share?
Hurricane Irma! We filmed for two days and then Florida was hit by Hurricane Irma! We had to shut down production and do a lot of cleaning up and regrouping. We filmed the next weekend. The strangest part was that there were two hurricanes lurking about and the second one was named 'Katia'. What were the chances! We took that as a sign… A good sign!
9. The set designs and costumes in 'Katia' are just incredible. Did you shoot your film in a real Circus or in a set?
I originally wanted to shoot it in a real circus, but because of scheduling issues we could not make it happen. So, we just started calling every circus performer we knew (Sarasota, Fl. is a famous circus town) and just started asking for set pieces, props and costumes. Everyone helped out lending us all the parts and pieces that made 'Katia' come to life! We created a circus in a studio! The scary part was that we borrowed a lot of priceless vintage circus equipment and I was terrified that it would be damaged in the hurricane. Fortunately, all went well!
10. What is the message that your film and/or your characters convey?
The power of friendship, of love and taking care of one of your own.
11. What are you currently working on? Is there any upcoming project you would like to share?
Yes, I am currently working on a short film that will star both Carolyn Michel and Nicole Esqueda and, of course, Joey Durango will be the director of photography. We hope to send it to Oniros Film Awards!! And I sincerely want to thank Oniros Film Awards for making one of our first film festivals such a wonderful experience! Charles and Fabio! You are the best!