The Stan Winston Award
2019
The 'Stan Winston Award' is the Unique and Exclusive Annual Award conceived for Make-up artists and Creators from all over the world to celebrate the memory of one of Hollywood most famous Icons in the field of special and practical effects, prosthetic make-up and animatronics. Four-time Academy Award® Winner, Stan Winston has been and will always be a great source of inspiration for Creators and Dreamers from all over the world.
This Special Award is proudly created by the Oniros Film Awards™ in collaboration with the prestigious Stan Winston School of Character Arts: the world's premiere online destination for learning the art & technology of character creation from Award-winning industry professionals.
All the Contestants that will enter the Annual Finals in the category 'Best Prosthetic Make-Up/Best Practical Effects' will be eligible for this very special Award and will be evaluated by Stan Winston School of Character Arts themselves. The results of the 'Stan Winston Award' will be revealed during the Oniros Film Awards Ceremony that will take place at the historic theatre G. Giacosa in Aosta, Italy, in August 2019.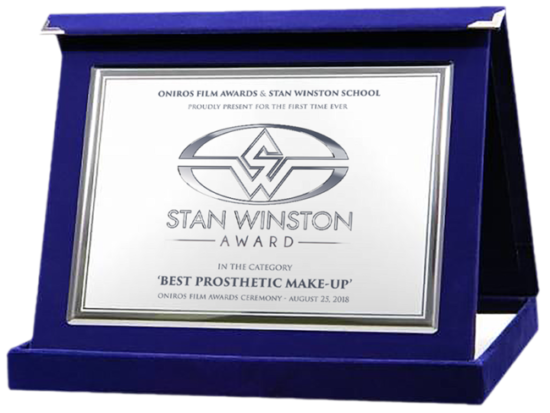 Past Award Winners
2018
1st Place: Tom Fargnier for "La Chambre Noire" – 2nd Place: Adam Losurdo for "Hope" – 3rd Place: Nicolas Fournelle for "Yo Soy Pedro"